Happy World Spay Day!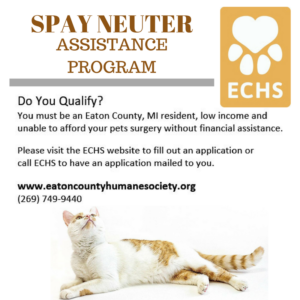 To celebrate – ECHS would like to announce the start of new spay/neuter assistance program (SNAP). The SNAP program was created to assist Eaton County families get their pets fixed who could not otherwise afford it.
Grants and program specific donations fund the SNAP program. Help will be available as funding is readily available. ECHS is ready to help some families and pets right now!
For more information or to apply online, please see our SNAP program page. If you'd like an application mailed to you, just call us at (269) 749-9440 or feel free to stop by the shelter during business hours.