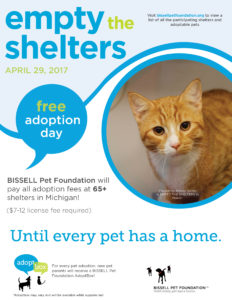 ECHS is participating in the Bissell Empty the Shelters event! On April 29th the Bissell Pet Foundation will sponsor all dog & cat adoptions for this one day during ECHS business hours (10am-2pm).
Preapproved applicants will be given priority (first choice) to adopt at the shelter…it's going to be a crazy day! To become preapproved, submit your completed application to the shelter by 2pm, April 28th.
Adoptboxes will be available that day while supplies last and are chock full of things you will need for your new dog or cat also!
Links to cat & dog applications can be found below or stop by ECHS during business hours. When your application is completed, please upload to us via our CONTACT form or feel free to drop it off at ECHS directly.