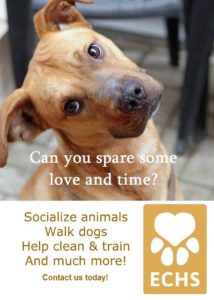 Love dogs? Want to help make dogs lives better?
ECHS NEEDS YOU NOW!
We need dog walkers daily to get the dogs out and exercise them, spend time with them and give them the love and socialization they need.
At this time, you must be 18yrs or older to volunteer (this is not permanent, orientations are coming that include under 18 w/parent).
Contact us HERE to get started! And take a peek at our Volunteer page too!